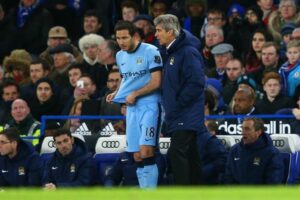 Former Hammer Frank Lampard has defended his former manager in his pre-match press conference.
The Chelsea manager said at his pre-match press conference: "He is a good man and manager, he will be working hard to turn them around. We all know the ruthless nature of the game. Every team, every owner, everyone wants to push. I will just do my job. We know how passionate fans are, it will be on both sides.
"I think with the Premier League it is hard to make judgements at the start of the season. It is a tough league, I have good players. We have West Ham and have good individuals, good team and manager and we have to be ready for them.
In 2014 Lampard, as a free agent, signed a two-year contract with New York City FC to commence ahead of the 2015 MLS season. He was then loaned to Manchester City and Manuel Pellegrini. He returned to New York in 2015 after one season in Manchester. The pair were said to have enjoyed a close working relationship during the season together and retain mutual respect for each other.