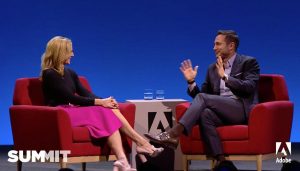 Former Hammers Academy product Frank Lampard Junior refused to airbrush West Ham out his footballing career at a business conference today.
Giving an interview to Gabby Logan in front of businessmen at the Excel centre close to Canning Town he refused to gloss over his time at West Ham.
Gabby told him she wanted to concentrate on his time at Chelsea where he had most of his career successes but Frank told Gabby: "You can't miss out West Ham as we are in their home as we speak"
Lampard was born into a West Ham family in Romford with his father, Frank Lampard Senior who made 670 appearances for the club which second only to Billy Bonds and West Ham supporting mother Pat.
He made 148 league appearances for the Hammers scoring 24 goals before joining Chelsea in 2001 for £11m. He announced his retirement from football earlier this year.