By Dave Langton
Two key Eintracht Frankfurt figures have confirmed their fans will flout West Ham's attempts to ensure only fans with tickets travel to the London Stadium for Thursday night's match.
The Irons board has called on police reinforcements for  the match to ensure that things don't descend into chaos.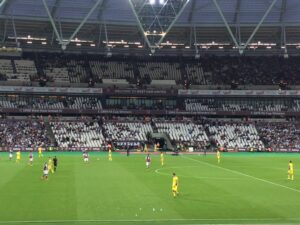 Frankfurt's fans have been allocated 3,000 tickets for the semi-final but both the club's president and a spokesman has confirmed that they plan to flout those rules.
The president, Peter Fischer, has said, per London World: "I don't know in which place yet [to party] – there are quite a few in London.
"Why not in front of Buckingham Palace? There's not much going on there at the moment… we'll manage it.
"And we will be more than 3,000."
And a spokesman has also confirmed that there will be a huge amount of fans attempting to get into the London Stadium.
He added: "I don't want to reveal any secrets, but our fans are very creative.
"Every effort will be made to get a significant ticket contingent. You can be 100% sure of that."
West Ham insist that they have and will take every measure to ensure that fans do not manage to invade the stadium.
The German side's fans grabbed headlines in the last round, as they invaded the Camp Nou and saw their side beat Barcelona to reach the last four.
As many as 30,000 supporters managed to force their way into the stadium to watch the Bundesliga side cause a major upset.