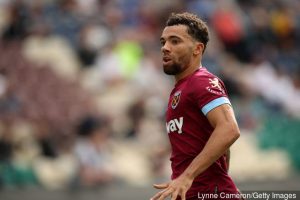 Ryan Fredericks appearance at right back last night had him commenting that he felt his season only started against Liverpool.
But it also opened up an interesting scenario around Pablo Zabaleta whose new contract extension may well depend on how many appearances the former Fulham man makes over the next 15 games.
Zaba has hinted at retirement from Premier League football but were he to make a further nine appearances he would hit the 28 he needs to see his contract automatically extended.
CandH revealed several weeks ago the Argentinian had the clause in his contract but Fredericks will be pushing to ensure he doesn't hit the required number of games.
With most managers reluctant to change a winning team it's likely that Fredericks – who did well with so little football behind him this season – will keep his place for Palace game given that Zaba most certainly can't play every game until the end of the campaign
It could be an interesting one to keep an eye on as we attempt to discern the 34 year old's likely future at the club.
Frederick meanwhile told www.whufc.com;  "It was tough, but I grew into the game and found my rhythm again.
"It's going to take a good few games to get back to what I like to call my best, but I'm just happy to be back out there and playing for this great club and hopefully I can carry on doing that.
"I was determined, I was focused like all the other lads were. We'd been watching clips of them all week and we knew what they would do, did our best to try and nullify them and I think it worked.
"It's crazy we've only got 15 games left as I feel like my season only started on Monday night! Hopefully I can play as many games as possible between now and the end of the season and show I'm more than able to play for this club."