Ryan Fredericks has revealed that new boss Manuel Pellegrini is confident the Hammers will be enjoying a far more successful season than the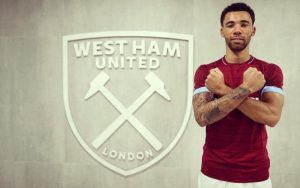 y experienced in 2017/18.
The new signing – giving an interview with West Ham Tv after his move from Fulham – said: "I've spoken to him and he doesn't think what happened last year with the club will happen again.
He's a very positive man and his record speaks for itself. He's very positive that the club are going to be at the right end of the table this season."
And Fredericks is also looking forward to training and competing with the two-time Premier League Pablo Zabaleta..
He said: "I'm looking forward to working with Zabaleta a lot. No matter where you go there's going to be players fighting for positions. That's what you need.
"It brings out the best in players. Especially a player like Pablo, who has been in the Premier League for years and has pretty much done everything there is to do.
"It will be nice to speak to him. I'm sure I can pick up certain things from him and learn things to add to my game as well."