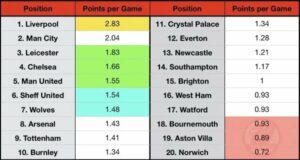 The French model of using Points Per Game (PPG) to decide final league positions would save West Ham from relegation but only on goal difference.
Yesterday PSG were declared champions of Ligue 1 with Amiens and Toulouse relegated to be replaced by  Lorient and Lens from Ligue 2.
There would be changes to the current Premier League table if a PPG method is used, with Sheffield United leapfrogging Wolves into sixth, while Arsenal and Spurs would switch places into eighth and ninth respectively.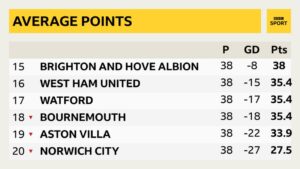 The rest of the table should remain the same, with Bournemouth, Aston Villa and Norwich dropping down into the Championship. Aston Villa and Bournemouth's placings could present legal challenges, however, as the former have played a game fewer and the latter would finish with the same PPG as West Ham and Watford separated only on goal difference.
Second place would usually ensure qualification to next season's Champions League, but with City banned for two years by UEFA and yet to successfully appeal the decision with CAS, Leicester City, Chelsea and Man United would take the other three spots.