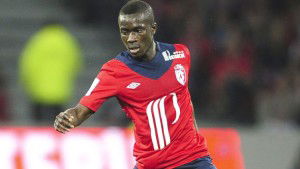 Lille midfielder Idrisse Gueye is keen to move to the Premier League and previous interest from the Hammers may have encouraged his hopes of getting a deal at the Boleyn.
However, with the club manager-less at the moment, it remains to be seen whether a new boss will continue with former coach Sam Allardyce's interest.
The Senegalese international helped take the Lille side to an eighth place finish last season during his 32 games for the French outfit, scoring four goals.
Southampton and Crystal Palace have all been tracking the bruising midfielder and value at £7 million although £5 million will probably be a more realistic sum.
The player said he would sit down with Lille and decide which club would be best for him but offers obviously need to be made first!
He told French publication La Voix du Nord: " I have a contract with Lille until 2018.  Admittedly, there are contacts and there will be offers.
I will have to look at it all and decide what suits me best. "[I will] find the offer that will allow me to grow, to allow me to take new steps to be in line with my ambitions.
"But I feel good at Lille and if I was to stay here, it would not be the end of the world. Everyone knows that England has a league that attracts me, even if I am not closing the door on going to other leagues."