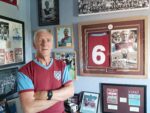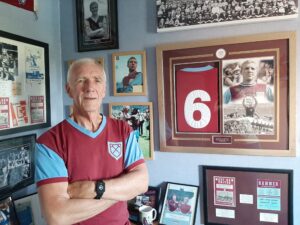 By CandH's top blogger Allen Cummings
For those with a memory stretching back to the late 60's, the Thomas Crown Affair was an iconic film of the time starring the legendary Steve McQueen and Faye Dunaway.
A movie with an intriguing and at times slightly baffling plot. They even did a remake in 1999. Fast forward to today and the 'Tomas Soucek Affair' may not have the same global attraction, but to West Ham fans it's equally as intriguing and baffling. What has gone wrong with Tomas?
Why has his form nose-dived? Has he really become overnight the bad player some seem to claim? Maybe most important of all is what should David Moyes do about it? Support or get shot?
Soucek's decline in form in the past 12 months has been almost as spectacular as his elevation in status following his move to the Hammers. Many of us knew very little about Tomas when David Moyes signed him from Slava Prague in January 2020 to play his part in the fight against relegation.
But Soucek's real impact came the following season where his contribution was instrumental in us finishing sixth in the Premier League and returning to European football. His partnership with Declan Rice was described by numerous pundits as the best midfield pairing in the country.
Tomas' industry was impressive, his lung power and ability to cover every blade of grass was phenomenal – but what really caught the eye was his knack of scoring goals. 10 goals in that first full season culminated in him being voted Hammer of the Year. An honour he richly deserved.
Last season his goal scoring was less impressive – netting just five times in the league – but that was put down in part to him having to share the freedom to get forward more evenly with Declan. A different role – and one for which he received plenty of sympathy for having to accept.
Then last summer there were stories of an impasse with the club over discussions around a new contract – with Moyes frequently being cast as the villain. It was claimed in some quarters the manager was the stumbling block by being reluctant to rubber stamp an improved and extended deal.
As usual there were plenty of calls for the club to just pay the money Soucek was said to be seeking. Get his signature on the dotted line and close the deal.
Now with the current season underway – the mood amongst many regarding Soucek has changed. Calls for his head are becoming ever louder as he clearly struggles for form.
Yet Moyes, who was supposed to have fallen out with his No28, continues to pick him on a regular basis. If David Moyes really did want Soucek gone why has he been so supportive so far?
It may well be of course the manager will finally bring down the curtain on Soucek's automatic first team place. Whether that might just be temporary until the Czech regains his previous form – or permanently as a prelude to being sold – we will have to wait and see.
Does the player we all loved and admired still have a part to play for West Ham? The Tomas Soucek affair may have some way to run yet.