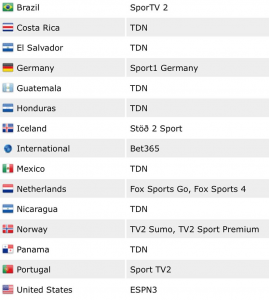 The Betway cup featuring FSV Mainz 05 and West Ham will be shown in Brazil, Costa Rica, El Salvador, Germany, Guatemala, Honduras, Iceland, Mexico, Netherland, Nicaragua, Norway, Panama, Portugal and the United States.
Unfortunately, no UK broadcaster has picked up the rights but content from other countries should be available on streams for those who know where to look.
Bet365 have been touted as having the International streaming rights but that seems doubtful as it is the Betway cup, a major competitor of them and it is not listed in their Live sports streaming schedule.
West Ham has yet to confirm whether they will show a stream but if I was a betting man I would gamble they will. For the last two Hammers friendlies against Villa and Ipswich they have not promoted or advertised a stream but shown both LIVE online from Kick-off.
It worth visiting the club official's Facebook and Youtube channels around Kick-Off to check for a stream.
UPDATE: West Ham start streaming on Facebook at 5.15pm
West Ham Facebook Page https://www.facebook.com/westhamunited/
Kick off is 5.30pm UK time