Beyond the Spuds the two teams I dislike more than any others are Manchester United and Chelsea!
Alex Ferguson may have been a great manager but he was also a pain in the butt with his attitude and truly got me down for years and years.
Chelsea got me down via Abramovich when he, perhaps more than any other owner made the game all about money,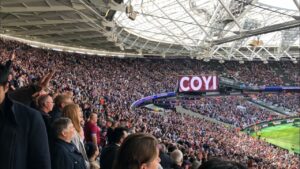 So to see those clubs struggling in 13th and 14th places – seven and eight places below us is a real joy. Long may it continue.
It won't be long before the manager sacking talks at Old Trafford whilst it's something of a shock to see Pochettino struggling to this extent – 0-0 at Bournemouth and United getting thumped by  Brighton and Hove Albion.
It's been a pretty astounding start to the season from many points of view but a smile is regularly crossing my face when I see the League table.