Former Hammers Tony Gale and Steve Lomas have told the fans to stop the protests until the squad have the chance of avoiding relegation arguing that it can't help the cause.
Some accused them of supporting the board, others believe they are correct. Here's some random comments from the CandH FB Group.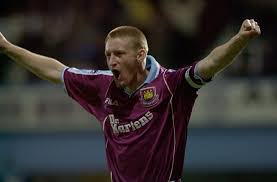 O I'm suprised with Gale comments seeing as he was against the move to Stratford and Brady sacked him from his £50000 a year corporate job at Upton Park.
O Think it shows he's a 'bigger man' than someone continually carrying a grudge, when the future of the club he loves is at stake. Well said Galey.
O  It's the Sun, Brady is a regular columnist in the Sun,  Surely the Sun couldn't make "selective" quotes? Could it?
 O Gale and Lomas absolutely spot on, too many negatives at the moment. It only brings everyone down…COYI
O He is putting Our Club first.
O Yes I hate to say it but club first !

O Once we know we are 100% sure of No relegation ..Then protest ! Players need our backing