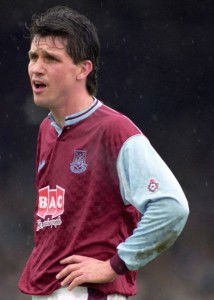 Former Hammer Tony Gale has urged West Ham fans to unite behind the team in a bid to avoid another "nightmare" relegation.
When recalling the impact that the Bond scheme protests had on his season 1992 season at West Ham, Gale said: "It was an absolute nightmare. The crowd that was normally so with you, were against you. The only way they could vent their anger at the board was through the players on the pitch – a bit similar to what happened last weekend against Burnley.They wanted to have a go at the board back then, but once supporters started running on the pitch, it stopped the continuity and concentration that the players had. The atmosphere at the ground was immediately lost.
"Not to have a crowd on your side for those remaining games, which were so crucial to us in our bid to survive, was a massive factor in us being relegated. No doubt about it."
Gale added: "The fans have got to put it to bed from now until the summer and make sure they help the club stay in the Premier League.
"The ramifications of going down to the Championship don't bear thinking about. It's really difficult for them.
"But I'd echo the words of Sir Trevor Brooking by saying revisit at the end of the season and I hope that the board learn and provide more investment, more West Ham signage around the stadium, more identity for the football club and just a bit more of everything."