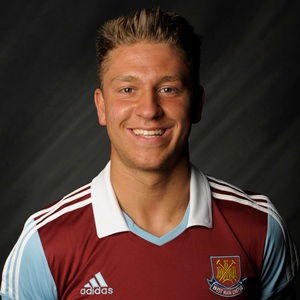 Hammers Academy midfielder George Moncur completed his much anticipated  loan move from West Ham on Thursday afternoon, signing for Colchester United  on a six-month deal until January 11th next year.
In an interview after the news was announced Moncur said "I'm delighted to sign. I'm over the moon,I've signed for six months. I hope to do myself justice during this time, and help out the team. And if everything goes to plan, I might even end up signing for longer.It's a big step up for me, and I am ready to take my chance.I've been playing under-21 football with West Ham, but this is an opportunity to play at a higher level and to really challenge myself. I've been on loan before, at AFC Wimbledon, but that was in League Two, and again last season I had a spell in Scotland (with Partick Thistle).But now I have a chance to show what I can do in League One, playing for a team that likes to get the ball down and play.Colchester United's style of football should suit mine, down to the ground.I've really loved playing in pre-season with the lads, and it has helped me having got to know the players over the last few weeks, rather than just signing out of the blue.There are some really good players at the club, and of course I know all about Freddie Sears "It's a good set-up, and it will help my game to play in a passing team, and for a manager who likes to play that style of football.I want to improve my own game, over the next six months. It's great that I have this long to establish myself, rather than just signing for the odd month.I'm very excited about the season ahead, and I'd love to make my debut this weekend," said  Moncur
Well George's wish came true as he came on as a 32nd minute substitute this afternoon in the Colchester United match against Oldham Athletic and he managed to score on his debut with help from former Hammer Freddie Sears. Sears fired a shot which hit the post. Moncur met the rebound and hit a high first time shot into the corner and out the goal keeper's reach in the 56th minute to earn Colchester a draw in their first game of the season.