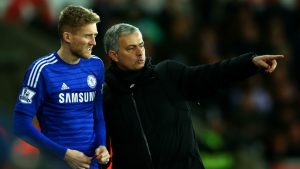 Reports that West Ham has offered a loan deal to German striker André Schürrle could have legs claim German newspaper BILD.
Schürrle's advisor Ingo Haspel had hinted that his client is considering a winter change.
"Basically, André wants to play as much as possible. And if the playing time is not guaranteed, then it would be downright negligent not to think about what the future might look like and where to get more playing time, "explained Haspel in an interview with Sky.
Only if Schürrle plays regularly again does he have a chance to join the World Cup squad in Russia under national coach Jogi Löw. At Borussia Dortmund, he has managed just a miserable 339 competitive minutes this season partly because he was injured frequently.
Borussia Dortmund does not want to sell their 27-year-old striker but might consider a six-month loan with the Hammers looking to fit a gap with Sakho likely to leave in the transfer window.