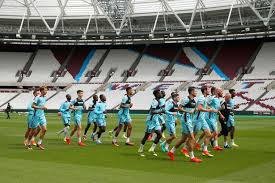 Footballers at a leading German football team have offered to give up their salaries to help keep the club afloat during the coronavirus pandemic, says Borussia Monchengladbach's sporting director.
The move comes with teams in divisions across Europe facing uncertain futures, with a big economic hit expected from the decision to suspend leagues during the outbreak.
The situation is precisely the same throughout Europe and the United Kingdom where players earning mega salaries may well need to do exactly the same as the game battles for surival.
"The team has offered to forgo salary if it can help the club and its employees,"
Monchengladbach's Max Eberl said in an interview on the 
team's website.
"I am very proud of the boys. It's a clear signal that we stand together for Borussia, in good times and in bad," he added.
"They want to give something back to the club and therefore also to all the fans who support us. The coaching staff have followed suit, as have our directors and CEOs."
The Premier League are not immune to the financial fallout of the pandemic either. West Ham is paying out wages of up top £3m per week with little to no income streams coming in the other direction. Whether any Premier League players will voluntarily give up all or part of their salaries during the current suspension of football remains to be seen but the PFA could play a big part in keeping football clubs across England and Wales afloat during these unprecedented times.
ClaretandHugh says: It really does have to happen. These guys are among the wealthiest in the world of sport and if they want that to continue they need to do the right thing and take a pay pause – the length of which should be negotiated between them and their clubs. When there is no way to grow a company, club or corporation, cuts and pay pauses are the only way forward – this is a major one which would show us all that everybody in the game, including those playing it, are entirely aware of what they need to do. The coronovirus crisis will pass and the players need to ensure they are as involved in making sacrifices as everybody else in the country who are suffering very very real financial trouble.