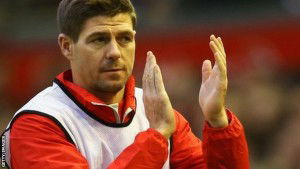 Steven Gerrard has paid West Ham the ultimate compliment saying: "I'd go as far as to say this is the best West Ham team I've seen."
Discussing with Jamoe Carragher in the Mail On Line, the former Liverpool skipper said: "I actually think Slaven Bilic and West Ham could become a bogey team for Liverpool.
"They can be devastating on the counter-attack and Liverpool could be vulnerable because of how they like to press.
"I like Bilic and remember how tough his Croatia sides were to play against for England. He's given them Croatian flair and they've been great to watch. "
And Carragher responded: "
I think it says everything that West Ham, with Dimitri Payet, will have the best player on the pitch at Anfield."
And in a horrible reminder of the 2006 Cup Final Carragher added: "I would still be strangling Lionel Scaloni now if I had been a West Ham player. Oh my God! He tried to be like a nice professional.
"He should have been more cute and clever but in desperate situations, you just aren't going to give West Ham the ball back and let them keep it. It was his own fault."
Read the full discussion at http://www.dailymail.co.uk/sport/football/article-3423521/This-best-West-Ham-team-ve-seen-hope-way-2006-Jamie-Carragher-Steven-Gerrard-remember-classic-FA-Cup-final.html