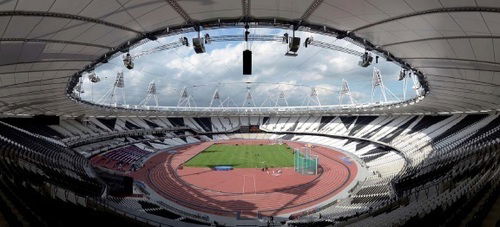 The Olympic Stadium conversion could include re-configuring the black and white seats in both main stands to include two large crossed hammers.
The plan is likely to see most of the black seats currently fixed in the stadium changed to white, with the exception of several hundred black seats that are likely to be rearranged to create the two club crests.
Details of the proposal was revealed at a recent stakeholder's meeting at the club attended by corporate members and bond holders, where the ongoing stadium conversion was discussed.
The official planning documentation makes it clear that the upper tier seats will remain black and white and that any new seats procured for the lower tier must be purchased to the same specification of the existing black and white seat units, and must be arranged to blend into the existing Olympic 'fragment' pattern. 
West Ham are hoping to persuade the LLDC to change the bizarre Olympic fragment pattern into a pair of giant crossed hammers to make it feel like my home. We understand West Ham will also look at the possibility of Claret and Blue themed seat covers in an attempt to give the stadium a further West Ham feel.