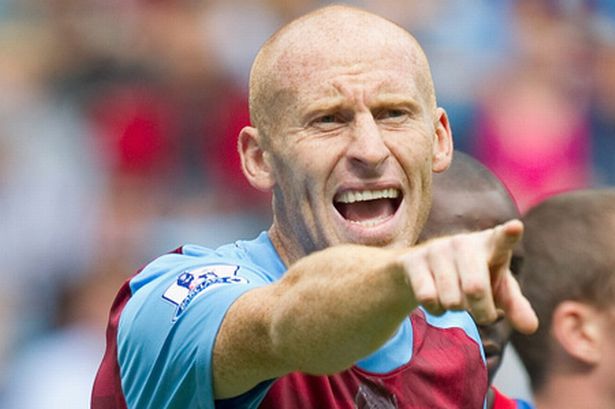 James Collins has admitted that moving to West Ham made him the man he has become and agreed that he "threw his toys out of the pram a little bit" when it came to the time to leave.
However, he has revealed  he has now had a conversation with the club and it looks likely he will go back to the club and finally say goodbye to the fans.
The Ginger Pele remains one of the most popular players to don the claret and blue over recent years and there's some who reckon, given our defensive frailties right now, he could still do a job!
He's had a lot to say about his departure from the club and gain detailed the events which led up to it on talkSPORT and how he was disappointed that he was never able to say that proper farewell to us.
It's a well known train of events now and the club has accepted a farewell will happen which is an admission that maybe it could have all been better handled.
After joining the Hammers in 2005 from Cardiff, Collins went on to make 214 appearances across two spells at the club.
Then following a three year spell  at Aston Villa, the Wales international returned to play a major role under Sam Allardyce after the club returned to the Premier League in 2012.
Talking to talkSPORT he said: "With my contract situation, it was tough for me because I couldn't go to [David] Moysey and ask if he knew – because he didn't know if he was going to be there.
"So it was all sort of thrown up in the air and then obviously the games are going on and then it came up to the last game at Everton.
"And I still didn't know so I spoke to Mark Noble, one of my best mates in football, and I said before the game, 'look, this could be my last game for West Ham'.
"And it turns out it was and then I obviously got told after that I wouldn't be taken on.
"I spoke to David Sullivan, he's answered a few of my emails. It was more to the fact that I wanted to go in training at the start of last season.
"And he agreed and that's when I sort of got the move to Ipswich on the back of that.
"Looking back, there was all this talk about an email I got to say I was leaving.
"It wasn't a direct email; it was sort of the generic email that goes around when you're out of contract.
"But I didn't know that at the time so I've got this email through and sort of threw my toys out of the pram a little bit.
"After 11 years I thought it could have sort of been handled better than it was."
"But I've spoke to the club since in the weeks just gone and it looks like I'm going to get a chance to go back and speak to the fans.