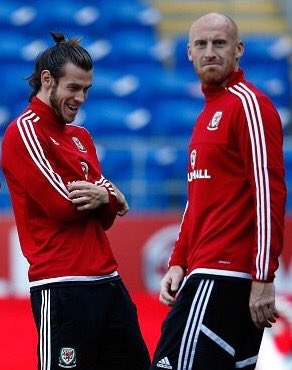 Hammer, James Collins will have to wait patiently on the subs bench as West Brom's James Chester was picked ahead of him to start ahead of him in Wales's first Group B match against Slovakia which kicked off at 2pm on Saturday.
Collins made his debut for the senior Wales side twelves years ago against Norway in 2004 and scored his first goal for Wales in a 3–1 defeat to Cyprus on 13 October 2007. He scored again against Russia in 2009 and Iceland in 2014 to take his International goal tally to three.
More recently he came on a 64-minute substitute in the May 3-0 loss to Sweden. Wales are currently one nil up at half time against Slovakia, thanks to a Gareth Bale free kick. Our caption question is what is Gareth Bale laughing at in this photo (above) with James Collins aka the Ginger Pele.