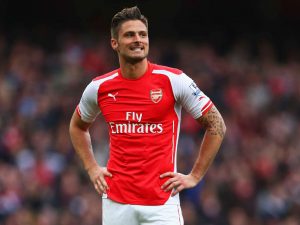 Oliver Giroud has finally admitted the inevitable – that leaving Arsenal is an option.
The Hammers have been chasing the Gunners striker all summer but everything was put on hold when he claimed he wanted to continue his Arsenal journey.
However the hammers will be back on red alert today – along with Everton, AC Milan and Marseilles – after the Frenchman agreed he could be on his way.
Speaking at the launch of the club's third choice kit in Sydney, he said: "It (leaving) is an option to be honest with you.
"I'm here in pre-season, I wanted to travel. Some people asked me if I am going to travel or not and of course, I am Arsenal player and for the moment I am here so I just want to prepare well for the season and we will see later.
"But it is true that I really enjoyed my five years with Arsenal. I'm still an Arsenal player for the moment so I try to be professional. No matter what happens, I did my job on the pitch.
"It's been five years that I've been here. It could be my sixth one. I had an amazing welcome from the fans and from the club and it has been five amazing years for me.
"I won't forget it, no matter what happens. We will see about my future but I am still an Arsenal player for the moment."