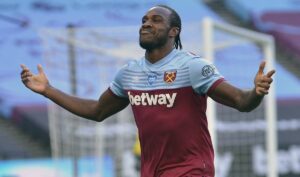 Sadly the dubious Michail Antonio conspiracy theories have started already on some forums!
The truth is of course that he is simply  out of form – it happens but I became a little irritated this morning by suggestions that he may be saving himself for Jamaica.
The theory goes that he has the chance of appearing in his one and only World Cup and as a result is protecting himself from harm in the Premier League.
It's helped by the fact he scored a brilliant goal in the qualifier against the USA and hasn't sparked in the PL since returning.
By protecting himself from any injuries on behalf of Jamaica the No 9 will be doing his chances of landing a half decent new deal with the Irons no good at all.
Beyond that Mikey Antonio is one of the most whole hearted players I've ever seen and it simply isn't part of his psyche to take it easy on himself.
Also let's remember if he's not doing the biz for us he puts his World Cup qualification hopes with Jamaica in jeopardy.
So come on you guys who jump to these conclusions – give the guy a break. He's suffering a form loss. End of!