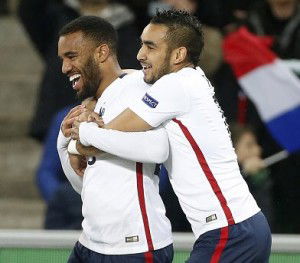 The Daily Mail is today reporting that West Ham are considering abandoning their pursuit of Alexandre Lacazette.
Just one problem with the story – it's not true!
Simon Jones  writes: "West Ham may consider shelving their expensive pursuit of Lyon's Alexandre Lacazette to ensure Dimitri Payet remains their star man.
"Lyon are continuing to demand £40m for striker Lacazette as they wait for Paris St Germain to firm up their interest with a bid"
This appears to be a mostly speculative piece written by Mr Jones without any real evidence or sources to rely on to make such an assumption.  Anyone who knows David Sullivan will know he doesn't easily give up without a fight. He is like a dog with a bone and will only admit defeat when he is ultimately forced to.
And the idea that we would not buy a player because we don't want to make one player more popular than another is – to put if bluntly – utterly ridiculous.
West Ham have already put in bids of £31m and  £32m and, in direct contradiction to Mr Jones' article, Claret and Hugh were told last night about unconfirmed report that a third bid was being considered for Lacazette and that West Ham were prepared to pay up to £37m for the player.
As for the suggested Dimi would get upset if he was no longer the star man at West Ham, RIDICULOUS.
Lacazette and Payet are good friends and the striker sent our midfield maestro a second congratulation message on twitter to Payet after Dimi scored the second late goal on Wednesday evening.
Rumour rating 0/10