"You always want to go back to your old club and do well for the team you are in charge of now. I had a really good four years and took great pride in taking the football club that was lost, down and out and struggling with getting relegated and reinvented it personally with the amount of work me and the background staff put in to push the club back to where it wants to be, which was obviously in the Premier League, and stayed there for the three years I was there."
"I did really well, I enjoyed working with the players, I think I had a very good relationship with most players in my time there and I think we all enjoyed our time together. Certainly I did but it came to an end and rightfully so for both parties concerned at the time and we move on, so now I am Sunderland and dedicated to Sunderland and dedicated to plot a tactic to disappoint the West Ham fans on Saturday."
Sam Allardyce February 25, 2016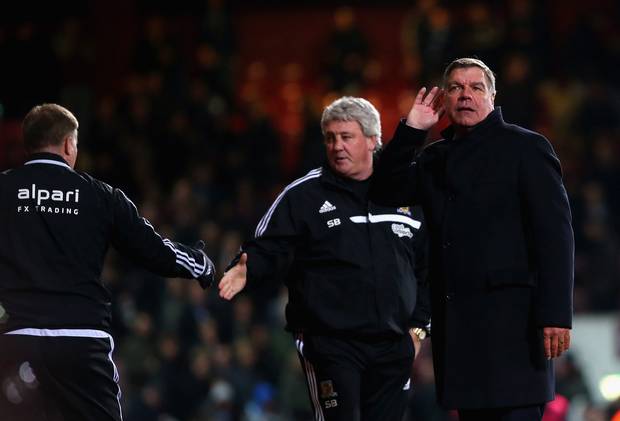 I had intended to leave it. As I wrote last night, he's gone and that is enough for me but no, Allardyce can't allow you to keep a promise even to yourself as he again displays an ego bigger than several houses and a lack of grace which leaves you lost for words.
Can you believe the conceit – "his re-invention of West Ham…a club that was lost and down" and that he virtually single-handedly raised us from the dead.
Just four words for you Allardyce: "Shut the ….up." Maybe a season of his absence had softened me up. Today he again showed himself to be as dislikeable as ever.
He was handed more money by far than any other Championship manager and scraped through the play-offs on a day we were second best and should have been up automatically weeks earlier.
Today he had the opportunity to explain how pleased he was we were doing so well and of thanking the Davids for the opportunity to manage a great club whether he meant it or not. But no as usual it's all me me me.
This is a man whom you simply cannot like and his football stinks the place out. The hard work of which he speaks also brought us £18 million AC, £10 million Matt Jarvis, £6 million Modibo Maiga, Alou Cisse and others.
Let it be said for the final time. He is a manager who produces a brand of football designed for those without a brain and as a person has absolutely no class at all.
Look at the words of David Sullivan and Slaven Bilic towards the geezer today and realise how mature people should behave towards each other.
Sullivan:
I have said it before that I felt he did a perfectly good job during his four-year spell. He did all we asked of him and I am a fan of Sam. He left the Club in a considerably better state then when he arrived and, for that, the Board were truly grateful.
He took us back into the top flight with a memorable victory in the Play-Off Final at Wembley and then managed to cement our position in the Premier League. I can't criticise Sam because he did a good job and I like him. But I think from both sides it was time for a change
Bilic:
"He took over West Ham in a moment when they were in the Championship and got them back straight away. He stabilised them in the Premier League and did an amazing job.Do I think he will get a warm reception? I think so, and I hope so."
Thank God he's history – this is a man who I really do loathe at absolutely every level.
No class Allardyce…no class whatsoever!