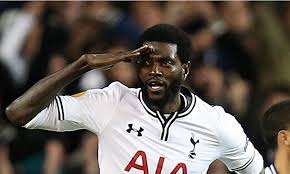 David Gold has slammed Daniel Levy after the Spurs chairman demanded the Hammers paid loan target Emmanuel Adebayor's £100k wages in full to join the club.
The Hammers co-chairman tweeted: "No matter how hard you tried there are people out there that you just can't do business with."
The Irons – seeking cover for the apparently departing Carlton Cole – were baulked by Levy's typical move in wanting to save every last penny on the deal.
The Spurs supremo was adamant that he did not want to pay for Adebayor to play for a top-four rival. West Ham are understood to have been the only Premier League club expressing an interest as being acceptable to the striker.
Levy, however, with Spurs just six points ahead of West Ham in the chase for the top four – refused to give way on wages.
Levy's decision also left Carlton Cole unable to make an expected move to West Brom where the Hammers loyalist saw an agreed 18 month deal offer go begging.
He is understood to have completed all the formalities and was sitting at the Baggies' HQ waiting for the green light.