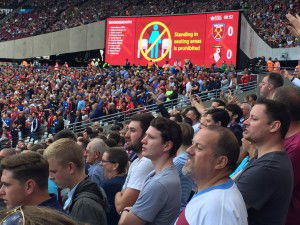 West Ham Chairman, David Gold has waded into the London Stadium standing debate on social media this morning. Speaking on via his twitter account to his 152,000 followers Gold explained.
"There are thousands of standing fans home and away too many for the stewards to cope with. dg"
"So the stewards concentrate on standing fans who are obscuring the view of seated fans (including elderly&kids) dg"
"Over the years it has evolved that away fans stand and that the kids, elderly and disabled are in the front rows dg"
Yesterday, the majority of Bobby Moore Lower (blocks 145-155) and West stand lower blocks 113 & 114 remained standing despite pleas from the club and regular announcements at stadium over the tannoy system and on big screens. The vast majority of the 2,800 Bournemouth away fans (blocks 117-120 & 218-221) also stood throughout the Premier League match.
Stewards did not strictly enforce sitting in the areas mentioned above while taking a stricter approach in the upper tiers and those outside these areas who have traditionally stood.
Stadium stewards admitted privately to ClaretandHugh they are powerless to tackle such large numbers standing and only wanted to keep the peace.