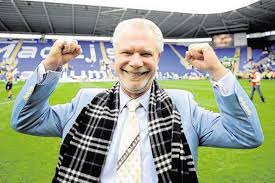 Co chairman David Gold claims the events at the Boleyn Ground last night were the most dramatic ever seen at the grand old stadium.
He admits it wasn't the best or most important in the club's history by some distance but for blood stirring thrills and spills he reckons it was the best ever.
He told ClaretandHugh "There have been far more important games in our history but I can't believe that in terms of thrills and spills there's ever been one like that. It was extraordinary."
And the co chairman believes that the club's FA Cup night of drama shows that the competition is starting a rise towards its former glories.
He said: "Both Everton and ourselves put out the strongest possible team and that shows – as is the case with some other clubs – that it is enjoying a renaissance.
"It is regaining the gloss that perhaps it has lost in previous years and I'm very pleased indeed. It's a great great competition and means the world to some of us.
"Everything was going on last night. It was breathless stuff and in the truest traditions of the competition although I was surprised at the rule which only allowed BOTH sides to use nine outfield players because one of them had had a player sent off.
"I would have thought when that happens the team that has been punished should have to carry the problem – not the other side. But it allowed Adrian to become a hero which is always ok with me and the fans!
"That two goalkeepers should be involved in settling the game via the penalty spot gave the game its final dramatic twist.
"What a night!"