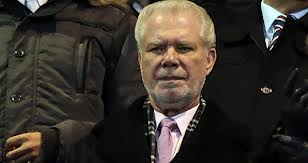 David Gold has dropped a heavy hint that Andy Carroll will be involved at some stage against West Brom tomorrow afternoon.
The co chairman – an admitted big fan of the striker – declared : "He has a little niggle at the moment but we are managing it in the right way and he will be protected.
You cannot under-estimate what Andy brings to the team and it is not just his goalscoring but the other areas of the team he helps out.
He puts in everything for the team and shows incredible commitment.
I know Gareth Southgate is coming to the game and hopefully he will see the quality from Andy once again. I have no doubts that he deserves a recall to the England squad.
It is also another great opportunity for the likes of Michail Antonio and Aaron Cresswell to impress the new England manager and it is great that we have so many players being talked about for a place in the national squad.
I recognise the fans support on a weekly basis and once again they were fantastic down at Southampton last week.
I am so proud that we have fans who show such passion towards their football club and they play such a big role in helping us perform well.
We are certainly looking up now and everything is coming together."