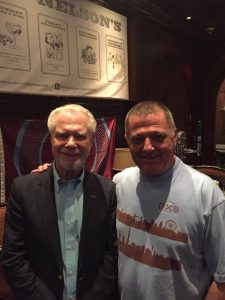 West Ham Joint Chairman David Gold dropped in on the Dubai Hammers supporters club to watch the Watford v West Ham Ham this afternoon in a pub called Nelsons.
Gold revealed he was in the Middle East on business and tweeted: "I'm in Dubai on business but I will be watching the game against Watford live on the big screen at Nelson's. dg"
Their leader Dave Leader previously told West Ham TV: "Everybody is passionate about their Club and and we didn't realise that there were actually so many. On our Facebook page, we have over 500 members who are signed up, so everybody is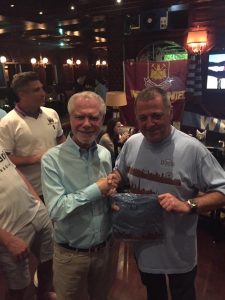 passionate and we are out here for West Ham.
"When we came up to the Premier League, there were pockets of West Ham supporters all over Dubai, so we decided to all get together to have one place to meet, That's what we did, we organised a Supporters' Club and here we are."
"We see every single game, every kick, every week. There is normally a nucleus of around 40 to 50 guys who get together in the Nelsons Pub and they deck it out in flags and memorabilia and every game is shown live here so we are very fortunate.