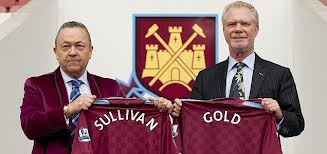 David Gold talks exclusively to Hugh Southon 
David Gold tonight sent out a message via ClaretandHugh that the club badge will not be changed unless "a big majority of the fans want it done."
The co-chairman – in an exclusive interview with the site – made it clear that a full consultative process with the supporters would be put in place.
He said: "I know your site has been running a poll and there's no problem with that.
"But if I ask whether fans are in favour of something without showing them the alternative I think we may realise what outcome we are going to get. They'll vote for what they know.
"There's no reason not to have a discussion about things. I love our badge. It's one of the best in the country – I feel sorry for many clubs where the badges are pretty mundane. Ours is fantastic and if it stays as it is that's fine
"But that's no reason not to consider a change is it? Let's have a look and if people don't want it then we won't do anything.
"If the vast majority of fans like it – and that's the number one priority – and it allows us to widen our world wide appeal then there's not a problem is there.
"If, as I continue to say. there's widespread dislike, we'll respect that and nothing will be done."