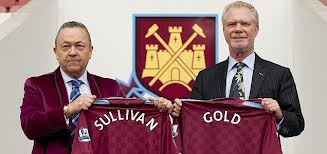 EXCLUSIVE
West Ham co- owner David Sullivan's widely publicised comment that should the club be relegated this season he and his fellow co owner David Gold "could not be able to continue subsidising the club" has caused much confusion.
But Claretandhugh can now put  his remark – delivered immediately after a 'door stepping' interview following the devastating defeat at Manchester City – into proper context.
David Gold – speaking exclusively to this site – gave us an explanation which will help relieve the anxiety felt by many fans revealing: "The comment certainly did not mean we would look for buyers. There is no danger of us selling up…none at all!"
Gold added: "We don't believe we will be relegated. We have a big fight in front of us of course but we have total confidence in Sam Allardyce
"When we came up from the Championship last time we threw our own spent our own money on the situation and even then only just managed it by being the best team on the day against Blackpool.
"To be honest, we should have been  home and hosed a long time before that if we are being perfectly honest.
"Were that situation to occur again – which we honestly don't believe it will – we couldn't afford to do that.
"It would have to be achieved within a much tighter budget. That is all that's being said – nothing more. There is certainly no intention to sell