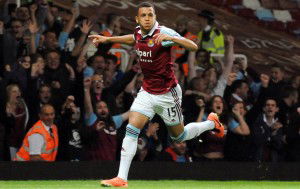 EXCLUSIVE
David Gold has warned Ravel Morrison that he will be thirty years old  "before he knows it" and will be saying: "Oh God, put my life on rewind and let me start again."
The co chairman have his views in an exclusive ClaretandHugh inerview after a national newspaper had run a two-part interview with the Lazio player in which he is quoted as saying that life at West Ham "messed with his head."
The co-chairman claimed he constantly had a metaphorical arm around the player's shoulder when he was at Upton Park and told us: "I really began to believe I was having an impact and getting through to him.
"But then I realised that in reality what I was saying was going in one ear and out of the other.  He was quiet and respectful. We talked a lot and you think you are getting somewhere but but then it turns out to be a waste of time.
"He had a lot of people try to help him here from those who would put an arm around his shoulder to those who took a tougher approach but it just didn't work and its such a shame. He's such a talent and I really hope it works out for him but he has to beat those demons.
"He could get to thirty and look back saying 'Oh God, put my life on rewind and let me start again."
"From a purely footballing point of view it was a shame for him and us. He could have been a big player and on the other front we had a £20 million footballer on our hands who then became worth two bob!
"I don't blame Sam (Allardyce) or anyone else at this club for what happened. We really did all try to help and I really hope it works out for him at Lazio and in the future as I genuinely like Ravel."
Follow on Twitter @claretandh