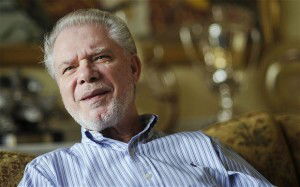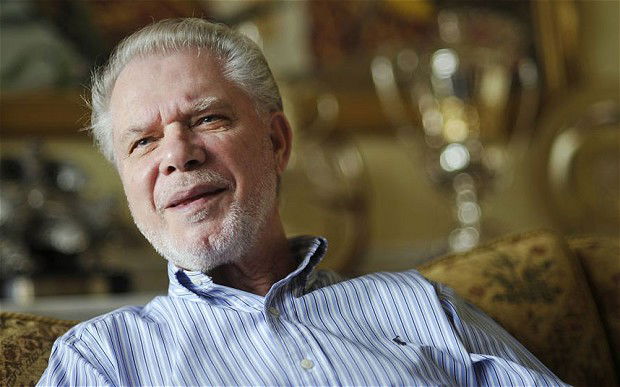 West Ham Co-Chairman, David Gold appears to stand behind his comments of four years ago when he said he was open minded about Safe Standing and if West Ham got the Olympic Stadium he would certainly consider it there. The Chairman re-tweeted the  short video clip to his 152,000 followers on twitter this morning.
Later he added to the standing debate saying "PERSONALLY I don't care fans standing but I care about our Licence, the young and elderly that can't see the game dg"
In 2012, David Gold was asked by ClaretandHugh associate editor Sean Whetstone about his views on Safe Standing live on a satellite TV sports channel.
Gold answered at the time: "What I would say to you is that, I have recently seen a German model of safe standing, It actually is a seat but you leave the seat up and you can stand there and for other functions you can drop the seat down very quickly with a mechanism. So it can be done and I think we should at least take a look at it, not close our eyes to the fact" Asked whether he would consider it at
West Ham Gold replied. "If I got the Olympic Stadium I'd certainly consider it there!"
Previous messges of support for Safe Standing from David Gold
December 2011 – Twitter "I am in favour of small areas of controlled safe standing. DG"

January 2012 – Twitter" I am in favour of safe standing the key is in the title 'safe'. DG"
December 2012 – Twitter "@Jamie_Seagrave: @DavidGoldWHU David, Is there anyway to have 'safe standing' at the olympic stadium? I hope so. DG"
January 2013 – Twitter "We already have unsafe standing which also stops fans that want to sit from doing so. I'm in favor of safe standing. DG"
March 2013 – Twitter "I support safe standing I have done so for many years."
March 2013 – Twitter "@DavidGoldWHU have you looked at safe standing? Yes, I support it. DG"
March 2013 – Twitter "I would hope in the future to increase the capacity with safe standing."
April 2013 – Twitter "I believe that safe standing is a viable alternative to the current unsafe and anti-social standing."
May 2013 in e-Magazine Blowing Bubbles
"Safe standing in football stadiums will happen. I promise you it will happen."
"I'd be stunned if we don't have some sort of safe-standing experiment soon."
"I think, in five years, we will see safe standing at football stadiums because, let's face it, it's not very expensive to install and it's safe, very safe. In fact, it's twice or three times safer than what we have at the moment."

June 2015 – Twitter
"Congratulations Celtic for being the first club to introduce a safe standing area I am confident that this is just the beginning, Purpose built safe standings areas are considerably safer than the illegal and anti social standing we have at present."
May 2016 – Twitter
"I support safe standing. DG"

August 2016 – Twitter
"If the experiment at Celtic is a success and I think it will, it will eventually lead to safe standing in the PL dg"
August 2016 – Twitter
"I believe that some time in the future the London Stadium will have an area of rail seats (safe standing) dg"