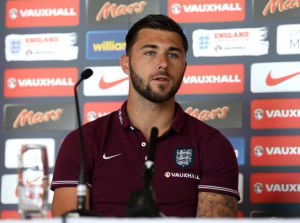 West Ham Chairman, David Gold has suggested Charlie Austin wasn't the bargain some Hammers fans think Southampton got when they snapped him up on a four and a half year deal for a transfer fee believed to be £4m.
Hammers manager Slaven Bilic last week confirmed West Ham were no longer interested in signing the former QPR striker but confirmed the Irons were interested last summer before pursuing other options. Speaking at a pre-match press conference, Bilic was asked whether West Ham would rekindle their interest in Charlie Austin:
"He is a good player and he has been linked with most of the clubs when they got relegated because of his record and everything. So we were also among those clubs in the summer but we have chosen other options, now we are not looking for that type of player" 
After the signing by Southampton David Gold weighed into debate over the weekend by responding to a supporter who had Tweeted him saying '4 mill is a bargain Austin is a brilliant player one of the best English strikers there is right now.' 
Gold's response was 'Is he a bargain if his wages are £100,000 per week? dg'.
Austin's estimated annual £5.2m per wages over four and a half years will total £23.4m so a hefty £27.4m investment for the Saints for a striker who is currently injured and once failed a medical at Hull.