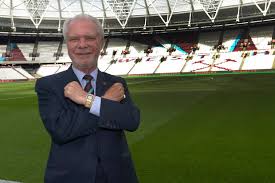 David Gold has given a provisional thumbs up to the prospect of televised Christmas Eve football.
The Premier League are considering the prospect of allowing cameras into grounds for the first time and there's a possibility that the Hammers could be seen in action against Newcastle on the 24th.
And Gold made it clear that unless there were clear religious objections he could see no reason why games should not be televised.
He explained to ClaretandHugh: "I know people have many other things going on at such a time but unless there is a serious objection from religious people I can see no issue.
"Those who want to watch – and there will always be a hard core of fans who want to and will in any circumstances."
Asked whether viewing figures would be poor given the fluid movement of people out and about on such a day, Gold said: "I'm sure Sky have done their research and believe there's a decent audience there so it's probably more likely than not.
It means that TV would make a 'football sandwich' out of the festive season with games being shown on the 24th and 26th.
However, Gold made it very clear that the prospect of Christmas Day football either now or at any time in the future was a total non starter saying: "That's a bridge too far and must never happen."