Exclusive By Sean Whetstone
It is that time of the year when Companies House confirms the list of shareholders for West Ham's parent company W H Holding Limited.
In official papers submitted today, there is little change in percentages following the death of David Gold one week ago today.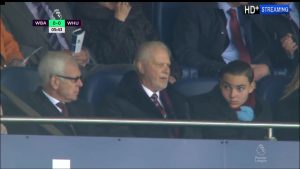 A total of 270 shares previously owned by Gold  Group International have been transferred into two trusts and one company owned or for the benefit of the Gold Family.
Gold International was liquidated last March, 168 shares were transferred to David Gold 1996 Life interest No.2 settlement in possession trust, and 100 shares were transferred into David Gold 1991 interest in possession trust.
According to Companies House records, two shares were transferred to GGI Holdings Limited, which was itself liquidated last March.
592 shares owned by David Gold personally which will be passed to the Gold Family, will  likely be subject to Business Relief and, therefore, exempt from inheritance Tax as long as they are not sold.
Ownership percentages remain the same.
David Sullivan 38.8%
Gold Family 25.1%
WHU LLC Trip Smith 8.0%
Other investors (Daniel Harris and Terry Brown) 1.1%
1890s holdings a.s (Daniel Kretinsky) 27.0%