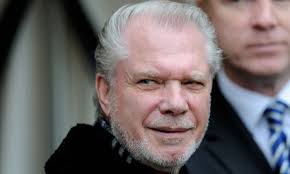 Gracious David Gold could have chosen to tear into Sir Alex Ferguson after the former Manchester United manager 's "What is the West Ham Way " outburst …but quite simply he has too much class for such nonsense
Ferguson has spent a lot of time dissing the West Ham Way and the club's playing style down the years in his updated biography drawing waves of contempt from Irons fans.
Ferguson had snarled: 'I hope that before I die someone can explain the "West Ham way." What is it? They last won a trophy in 1980, the FA Cup.
'I never played against any West Ham team that played football I was afraid of. They were always surviving, or lucky as hell against us.'
Typically Ferguson! Storms and teacups are the words that come to mind but the Irons co chairman – born across the road from the Boleyn in Green Street – and a supporter all his life, refused to get into a major war of words.
Instead, in a one liner to put Ferguson out of business – and speaking exclusively to ClaretandHugh – he said: "Sir Alex, playing the West Ham Way is as much about what's in the heart as it is on the eye."