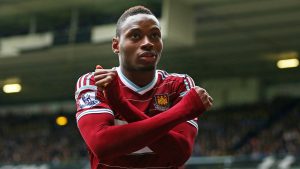 David Gold has revealed that the West Ham medical staff are protecting Diafra Sakho the the 'enth' degree.
Amid the usual storm of Twitter abuse and bad language (one wonders why he bothers!) he tweeted today: "Diafra Sakho is desperate to play but the medical team are protecting him as he's been out for such a long time. On the bench soon. dg"
Gold's quote follows the same assurance from Slaven Bilic and the player himself but it's the 80 year old co chairman who takes the effing and blinding on the chin.
Among the responses he received were:
O 'Starting against Arsenal' to 'Bench soon' – when is soon? Next season?
O We know that's not true, Sakho fell out with Bilic and will be sold in the summer
O Instead of Wenger out can it be Gold&Sullivan out?
O This is as bad as Carroll, only 3 weeks leads to 5 weeks then it's 2 months. I'll medical team are f…..g awful. I might apply there.
Gold's tweet followed the player admitting that was the case and Bilic claiming that he would be back very soon and there may now be fears the striker is being over protected.
And there remain hopes that after the constant pleas from the player himself to be allowed to play that he will be on the bench for the match against Swansea or Sunderland next weekend.