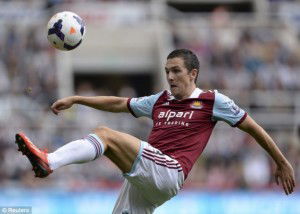 Co chairman David Gold has called on the Hammers faithful to give Stewart Downing a big welcome back when  Middlesborough arrive at the London Stadium tomorrow (Sat).
The former Hammer returned to his hometown club soon after Slaven Bilic's arrival complaining the new boss hadn't given him the vibes that he wanted him.
However, Gold said: "It's football. It happens. I'm sure everybody will give him a big welcome because he was a fine player for us and he deserves that. But we are in a different place now and it's time to sort things out."
Gold is confident that the Hammers can put their awful start to the season and bad week behind them saying: "We have enough about us to beat them. We are a quality side and we need now to put everything behind us including the events of this week.
"As far as that is concerned, an inquiry will be held and we will judge our response on the strength of that."
He went on: "But it's all about tomorrow and it really is time to get our season underway."