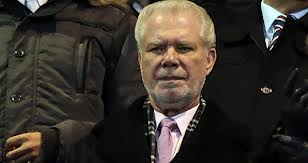 David Gold has made it clear the Twitter bully boys will never beat him!
The Hammers co-chairman has received a shed load of abuse since arriving on the social network.
He now has over 94,000 followers but last week suffered a vicious attack by a fake Carlton Cole account.
It produced a picture that saw his  face superimposed onto a newspaper front page with a 'Face of Maddie Suspect' headline.
Gold responded on Twitter, saying: "You are a disgrace and completely out of order. This is not funny or banter."
And in his first interview on the matter he told ClaretandHugh exclusively: "The Twitter bullies will never ever beat me. That  was so far out of order but they won't close me down."
"Ever since I was a kid growing up in the east end I have faced down bullies even though I was the smallest kid in the street. These trolls will never beat me."
"The vast majority of followers are excellent but there's always the noisy minority who want to make life hell if they can. Well they don't and they won't.
"I have no intention of deleting my Twitter account and if I ever do it will be in my time – not theirs."