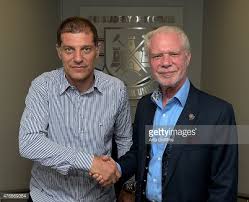 David Gold has finally made the board's position clear on Slaven Bilic!
A media storm has been whipped up over recent days which has included Jaap Stam, Tony Gale, Tony Gale and Danny Gabbidon along with the pros and antis on social media as the debate over the manager's future is hyped beyond any normal limits.
The board has been slammed whilst others have come down against the boss, his tactics and all the rest of it, but finally Gold has stepped in to make things as clear as possible.
He said: "There is no issue between me and the board and Slaven, and I go to every board meeting, and in the board there have been no discussions over Slaven – he's our manager we all like him, he's a great guy.
"Me, personally, I like him very much. I think he's very passionate and I love the passion. Would I like to be two or three places higher than we currently are, of course I would. Tell me a club apart from Chelsea who wouldn't.
"There's no issues. There never has been a new contract on the table. He still has the rest of this season and next season.
"He's had a tough season, we accept that. He's had stadium issues outside of his control. He's had [the Dimitri] Payet issues which he dealt with to the best of his ability.
"He's had injury issues – at one time we were second in the league for days lost and it wouldn't surprise me if we were still in top three or four for clubs affected.
"We had a fantastic season last year where players over-performed."