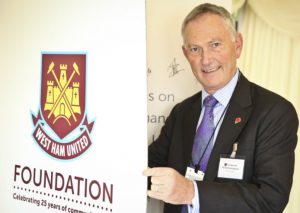 News that Richard Scudamore could pick up a £5m golden handshake funded by all 20 Premier League clubs including West Ham has not been well received by football supporters up and down the land.
Footballers are not rewarded when they leave the club or retire so why should Scudamore?  Testimonials are now a rare occurrence and even then often the money is donated to charity by players who have been well paid.
Scudamore has changed the face of the Premier League football in the 19 years he has been in charge but not everyone would claim it has been for the better. We are now servants of the TV companies who pay their billions and our schedules are dictated by global audiences and popular viewing times.
Wolves are 'not comfortable' with the idea of paying £250,000 as their share of a £5million parting gift to outgoing Premier League executive chairman the Wolverhampton Express & Star have reported.
If 14 of the 20 Premier League clubs agree with the proposal, it will be passed tomorrow.
It would be interesting to know which way the Hammers will be voting!