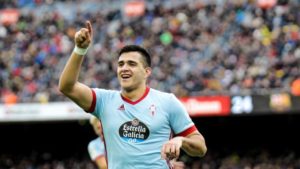 West Ham will be hoping that Uruguay's departure from Copa America will speed up talks aimed at bringing Maxi Gomez to the London Stadium.
However they could be worried the 22 year old failed to register a minute of action during Uruguay's four games in the competition.
Gomez's national team crashed out of the competition to Peru 5-4 on penalties and will now presumably take a holiday and be in touch with his agents over the West Ham interest.
Thus far all sorts of explanations for the lack of Hammers progress have been thrown into the mix, chiefly his reluctance to leave La Liga.
But as explained previously with Celta Vigo keen to raise cash and with Valencia out of the running via lack of finance the Hammers are becoming the only show in town.
And whilst his lack of international activity in the Brazilian tournament over the last couple of weeks puts his position in a little more perspective maybe, Manuel Pellegrini and Mario Husillos have been tracking him as the man they want for months.