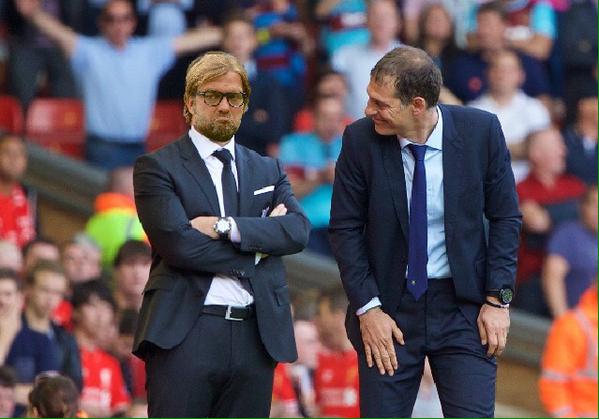 Dear Mr Bilic,
I would like to humbly apologise to you and make an honest admission . . . . . . . . . .I never really wanted you. Before you turn on your heels and walk away in disgust please let me explain.
You were never my first choice Slaven, there is a fella called Rafa Benitez (you may know him, he's friends with Sam Allardyce I think) who has won lots of trophies and he was really my first choice. At one point it actually looked like Rafa was going to arrive but in the end he spurned me and went to Spain to manage his boyhood club who have a really good player with an earing apparently. As it turned out East London was too far away from Spain which is strange because he has since moved to a Championship club in the North East.
Just as I was getting over my rejection it was suggested that Rafa's predecessor Carlo Ancelotti might fancy coming to Green Street directly from Madrid. The word on the grapevine was that he really liked London and still had an apartment here but unfortunately he had a bit of a sore knee so was unable to take the job and instead he went back to his house on Lake Como (strange choice) to await a call from Bayern Munich.
By this point I was starting to get used to rejection but I'd set my eyes on a new potential candidate who was leaving his job in Germany, his club were near the bottom of the league but they used to be decent and that was good enough for me. He had an amusing demeanor, could grow a full beard as opposed to my patchy effort and he managed to look cool in glasses. Unfortunately he decided that he wanted to have a year away from the game and travel the world (it turned out 4 months and a move to Merseyside would suffice) .
I am ashamed to say that even at this desperate stage I still did not want you Slaven, I even posted on the internet that I thought Eddie Howe would be a better match. In all honesty I think I was still wounded from you walking out and leaving us  for Everton all those years ago and the way you treated that famous Dutch manger Schteve Van McClaren did you no favours either.
Anyway, I had now set my sights on another famous coach. Well I say famous, I'd never actually heard of him but everyone else said he was really talented and that was a decent enough endorsement. His name was Unai Emery, I thought he sounded a bit odd if I'm honest but he'd just won the UEFA Cup or whatever it's called these days.
I usually think that tournament is a bit crap, it's the one Man U will participate in next season alongside us but who cares . . . a trophy is a trophy right? Our Chairman Mr Sullivan promised to make Emery the 9th highest paid manager in the world which would have been amazing because our last coach was the 13th best manager in the world so I was excited.
You can probably guess what happened next, he turned us down to remain at Sevilla for half the money and contest a trophy called the Champions League which funnily enough doesn't even require it's entrants to be Champions. I could accept that rejection if I'm honest, my third choice was David Moyes and surely he would want the job.
Our owners like to appoint a British manager (with the exception of the Israeli one but that is a very different letter entirely) and surely he would prefer come to East London and be rich rather than fight relegation in Spain and appear in the TV studio.
I was now down to you and some bloke from Marseilles who was a bit of a nutter and could not speak English and it was at this point that I realised you were my man . . . . . . .it was never in doubt.
The truth is that I got it wrong and I hope that you can forgive me, you have given me back my West Ham and I now look forward to every game with a genuine belief that we can win and be entertained at the same time. I love the way you seem to try and play as many attackers as you can and if it's not working you chuck some more on the pitch just for good measure.
Remarkably I'm even excited about the Europa League, you've masterminded victories against Arsenal,Chelsea, City, Man U, Spurs and Liverpool and as a result my normal paranoia and defeatist realism has been replaced with hope.
Thanks for the hope and the happiness Mr Bilic and sorry I thought Eddie Howe was better than you.
Lots of Love
Gonzo
Hammers Chat