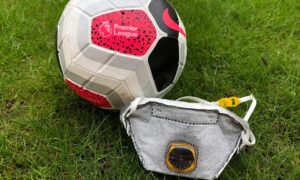 The UK government has released its 'phase two' guidance for athletes and elite sportsmen and women to make a phased return to close-contact and competitive training, provided individual sports "have the appropriate carefully controlled medical conditions in place".
Public health officials and sports medical officers have contributed to the guidelines which permit organised and close-contact training to take place under carefully controlled medical conditions
On Tuesday the Premier League will discuss updated government advice on contact training with club captains, managers and representatives from PFA and LMA
On Wednesday Premier League clubs will vote on whether to resume contact training.
On Thursday Clubs meet again to discuss broader details of Project Restart – including contingency talks on how curtailment of the season would look.
The official advice, aimed at helping competitors reach fitness levels required for matches, says close-contact training for elite athletes can include coaching and tackling in team sports within a two-metre distance.
The guidelines clarify: "Stage Two training can be described as the resumption of close contact (interaction within the two-metre social distancing boundary) training where pairs, small groups and/or teams will be able to interact in much closer contact (e.g. close quarters coaching, combat sports sparring, teams sports tackling, technical equipment sharing, etc)."
On May 13, the government published its 'phase one' guidance, which advised adherence to strict social distancing.
'Stage three' of the government's protocols are expected to centre around a return to professional sports in June.
The government stressed that the decision to implement the latest guidelines will be the responsibility of the respective sports bodies and clubs, in consultation with athletes, coaches and support staff.
Sports minister Nigel Huddleston said: "This new guidance marks the latest phase of a carefully phased return to training process for elite athletes, designed to limit the risk of injury and protect the health and safety of all involved.
"We are absolutely clear that individual sports must review whether they have the appropriate carefully controlled medical conditions in place before they can proceed, and secure the confidence of athletes, coaches and support staff.
"Given the wide-ranging input we have received from medical experts, we believe these pragmatic measures should provide further reassurance that a safe, competitive training environment can be delivered, as we work towards a restart of professional sport behind closed doors when it is safe to do so."
Claret and Hugh say:
This guidance was inevitable and the meetings on Tuesday and vote on Wednesday a mere formality. Sure there will be some opposition from clubs like Watford who have a number of their players not training including captain Troy Deeney. There have been 8 positive tests since testing began over a week ago with two players and three staff from Burnley, Bournemouth and Watford. The remaining positive results over two clubs are unknown.
Mark Noble along with Tory Deeney is reported to have been very local on Premier League meetings calls for guarantees over player safety.
We have no doubt that Project Restart stage 2 will go through on the nod this week as new infections and death continue to drop particularly in the South.