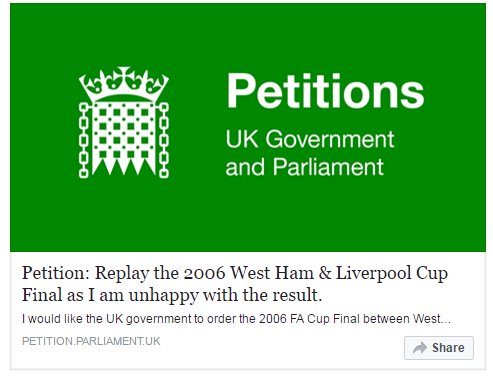 An online petition by EU remain supporters has received over 3.6 million signatures since Friday cashing the government website at one stage.
This petition has spawned a number of parody petitions on social media including one by a West Ham supporter whose setup a new petition on the Government and Parliament website demanding a replay for the 2006 FA Cup final between West Ham v Liverpool because they were unhappy with the result.   Unfortunately the government website rejected petition because it did not confirm the petition standards claiming it was "not something that the UK Government or Parliament is not responsible for" , "about something that's the responsibility of a devolved body" and "nonsensical, or a joke"
Where is their sense of humour? Other online petitions include the replay of England v Iceland Euro match if England lose tonight and the redrawing on the National Lottery number after millions didn't win on Saturday.
At Claret and Hugh we don't care which way you voted in the referendum because we are not non political as a football site but this FA cup final petition did make us  smile this morning amongst the non football headlines of doom and uncertainly for the UK this morning.