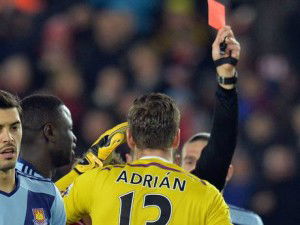 Former Premier League referee Graham Poll says West Ham will win Adrian red card appeal if their case is based on it the fact that a goalscoring opportunity wasn't involved.
Speaking on Talksport radio earlier today Poll suggested the play was going away from goal.
Explaining the rules when former Hammer Robert Green once handled the ball outside the area in an England game, Poll previously explained:
"The law is very simple on this matter in that when a keeper leaves his penalty area he is treated as an outfield player. Therefore he cannot handle the ball so a direct free-kick should be given if he does, Regarding cards, if the handball denies an opponent an obvious goalscoring opportunity then the keeper should be sent off but if it is merely a handball with defenders around around then a free-kick is sufficient." 
Sam Allardyce confirmed yesterday West Ham would appeal against the red card awarded against Adrian during the goalless draw at St Mary's last night.
"It was a foul on the goalkeeper before he handled the ball, Mane has his hands all over Adrian," said Allardyce. "He should have kicked it out but Mane had two hands on his back. We will appeal. I will be very disappointed if we don't get it rescinded."
Adrian faces a one match ban for the FA Cup game this Saturday at the Hawthorns.