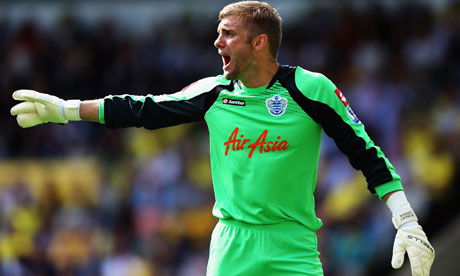 Rob Green has no doubts that Sam Allardyce will take the Irons where they want to go.
And he makes no bones about the fact that he believes the 59 year old can spark the attacking revival so badly wanted and that he has been wrongly accused of being a long-ball specialist.
The 34 year old returns to the Boleyn for the first time since his transfer to west London today as QPR provide the opposition and he said: "Their new players have gelled very well and very quickly.
"The manager is very confident is his own abilities, and he's said: 'If you want more attacking football, go and get me more attacking players' and so it's proved, they've shown what they can do.
"It's a difficult one for the owners: they want to appease the fans as everyone does.
"Sometimes the club's so big with such expectations that to do it on all fronts as well as get results can be a double-edged sword.
"He'll reel off the stats better than I will: never been relegated, always left a club in the top half of the division, I've heard them all as well!
"You give him the players of the ilk they've had and they can play the attractive football that the owners desire, I'm sure.
"You look at Bolton when he was there, my old man's a Bolton fan, and he would go and watch Jay Jay Okocha play, Youri Djorkaeff, Nicolas Anelka.
"He gets these guys and he can get them to play: that's what he can do.
"Sam Allardyce will get the required job done at the time it's required.
"And I think his record speaks for itself.
"I think because of the character he is, the larger than life person he is, and the manner in which he does things, with his confidence and demeanour, I think he's an easy target in that respect."
QPR will chase just their second win of the season at West Ham as they continue their fight for a Premier League foothold.
Green said the Loftus Road club boasts "a very different feel" from when he arrived from West Ham in 2012, only for boss Mark Hughes to sign Brazil stopper Julio Cesar just weeks later.
The 12-cap England keeper admitted relishing his new duel with summer recruit Alex McCarthy, the England Under-21s cap who arrived from Reading.
"It's a very different feel and a very different scenario," said Green. "It wasn't Julio's fault he signed, he came with the best intentions.
"Nothing against him personally, but it was a difficult situation. Holding a grudge against someone doesn't help though.
"It's different with Alex as he's 10 years my junior. He has great talent, potential and current ability.
"He's a threat to my position and he's keeping me on my mettle.
"I want to play obviously, but I have to be on it and play well every week to keep my place.
"I can understand the club having a goalkeeper at 34 and one at 24, there's an obvious progression and change.
"But having two goalkeepers, Julio was born in September and I was born in January, both internationals exactly the same age, that was a bit of a head-scratcher.
"So it's different in that respect."