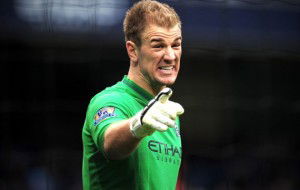 One incident that went largely unnoticed during yesterday famous victory over the Premier League champions involved England and Man City keeper Joe Hart.
And it demonstrated better than anything else could have done the disunity in the City ranks and the all for one never say die spirit of the Irons.
Hart got the right hump with West Ham fans in the Sir Trevor Brooking lower stand who were taunting him about his advertising of hair products.
After several early choruses of 'He's got dandruff in his hair, he's got dandruff in his hair' the England keeper made an obscene hand gesture to Hammers fans behind him.
If FA officials had spotted that it could of been considered as inciting the crowd but of course his actions just encouraged the crowd to get on his back more in unsettling him.
Further taunts of 'wash your hair, wash your hair' seemed to get to him as the game progressed and the goals went in.
It was obvious Hart was'nt happy with His side's performance and that goes for many of his multi million team mates. Frequent disagreements broke out during the match with some blaming each other for defensive mistakes.
It was clear they weren't playing as a unified team and we took full advantage of that. Even James Collins had Aguro in his pocket, something which frustrated the hell out of the Argentinian who was lucky to stay on the pitch after a stamp on Mark Noble. Vincent Kompany was also very lucky boy to see red after three incidents which warranted a yellow card, again his frustration that he was being outplayed by Enner Valencia.
Don't worry lads there is always next season! I did chuckle when I heard Jose Mourinho texted Sam Allardyce after the game to say a big thank you!