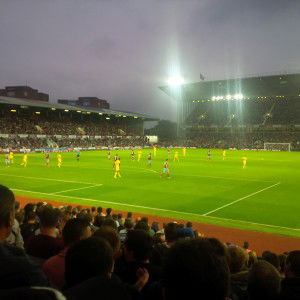 By Sean Whetstone
Saturday was a surreal adventure when pinching yourself was an absolute necessity.
'Unbelievable' is a vastly over-used word but it describes like the emotions of those watching like no other.
Those two early goals caught the Boleyn ground faithful off guard as the cockney boys went two up after seven minutes.
The atmosphere was beyond electric as Hammers fans around the ground sung their hearts out for the whole 90 minutes as a the Irons 12th man.
It looked to affect the Scousers in general and Steven Gerrard in particular who proved to be ineffective during the game.
As seasoned West Ham fans we have been there before so we didn't want to get too optimistic and when we conceded just before half time there was some half time chat about a draw being an OK result.
It wasn't simply about the result in the end – im,portant though that obviously was –  but the nature of the way we played.
Sure, we beat Spurs three times last year but this was a West Ham team passing the ball, dominating and entertaining.
It was almost as if they had finally found the magic ' West Ham way' formula  which Sam once dismissed as being delusional.
I won't deny it was a nervous watch second half  despite more, West Ham chances but the third goal was really icing on the cake.
As I looked around me there were grown men in their late forties in the stand with tears running down their faces as that third goal went in and we knew it was game over.
It was the best game I have seen at the Boleyn for five or more years and on Monday evening I'm still smiling from ear to ear.
I can even forgive Sam's smugness in his post match interview because if he can serve up that kind of football week after week he can led us into the Olympic Stadium as far as I am concerned.
This Saturday I travel with my fellow season ticket holders to Manchester for our away outing at Old Trafford, it is a great time to play them after their 5-3 humiliation to Leicester and who knows what could happen?
More of the same please Sam, I could grow to actually quite like you……