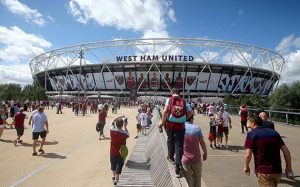 The Guardian took to their favourite sport of West Ham bashing again on Sunday.  Senior researcher at the Directory of Social Change, Rachel Cain wrote an article which appeared to blame West Ham for a short fall in charity funding.
She wrote "As West Ham United kick off a new season in the Olympic Stadium where the nation cheered Mo Farah and Usain Bolt in the World Athletics Championships this summer, few will be aware that this fabulous venue, now the London Stadium, was partly funded by money intended for charities, which are still waiting for repayment."
Back in 2007, the government raided millions from lottery funds to pay for the infrastructure of the London Olympic and Paralympic Games. More than £400m of this money should have been distributed by the Big Lottery Fundin grants enabling charities to do vital work in communities."In response to outrage from charities and MPs at the time, the then Labour government pledged to repay the £425m of funds after the sale of the Olympic assets. This promise was reaffirmed by successive coalition and Conservative governments".
Now for the reality for Mrs Cain: The London 2012 Olympics was budgeted at £9.29 Billion of which £8.77 billion was spent by the time the games were completed.  Some of this was funded by the National Lottery to the tune of £425m but that was not dedicated to the £486m it cost to build the London Stadium so why only mention the stadium in the article?
What the article doesn't mention is a total of 438 Olympic and Paralympic athletes which have been Lottery-funded since 1997 with a total of £2.2billion contributed to them. No mention of charity funds being redirected to Athletics though or a call to pay their funding back to charities.
Blaming West Ham for the shortage of the charity funding is a cheap shot by Cain, least we forget, it is not our Stadium! It is owned by the tax payer as everyone loves to remind us and we rent it for 25 days per year at a cost £100,000 per day.
I am not sure Lottery players care a fig about where the money goes, they just want to buy a chance in landing the jackpot.
Every story about the London Stadium in the media loves to beat up West Ham as some kind of blood sport when in reality, the stadium would have remained empty and a white elephant had West Ham not bid.